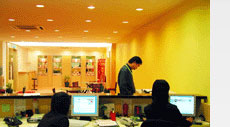 "For over 10 years, LeRoy's commitment towards unity by Working, Managing and Sharing Together. "
The original name of the company was Visconti, founded in the year 1996. The company primarily focused its attention on the distribution of health products such as Bio-Magneton, Mr Prune, LinZhi, and Cordycep to name a few."
Then in the year 2004, a new chapter began with the establishment of Leroy International, a organization that revolutionized the health industry with a new product utilizing German technology --- Hydrolyzed Collagen.
What is unique about this product is its ability to rebuilt, renourish and revitalize bone cartilage in the human body. This product is making a huge impact in the senior citizen category throughout the world.
Due to its efficacy, this product has made tremendous inroads in the health category. A major milestone was reached when sales reached RM60 million in 12 months.This shows a tremendous achievement in the history.
The 2006
Being awarded for DSAM membership within 2 years in operation.
Acquired a GMP factory in Malaysia, with expansion plan in the pipeline for China and India.
1st in our history to officiate Bone and Joints Day (on every 20th of October) in conjunction with World Wide Bone and Joint Decade initiative, which is to increase awareness and create solid information on improved prevention of bone and joint disorders and in turn to improve the quality of life for those affected.
1st company in SEA with pioneering initiative on Hydrolyzed Collagen benefits for Bone and Joints.
1st company in SEA committed to bring in Bone and Joints Professional from difference fields that supported with clinical study on Hydrolyzed Collagen benefits for Bone and Joints disorder.
Second Phase expansion successfully established Sales Operation cum overseas branches in Philippine, India, Cambodia, and New Zealand. Dozens more of countries shall follow with sales topping at RM100million and climbing.
Successfully launched 1st in the world Bio-Chlorella, cultivated using patented closed circuit glass tube technology, in Malaysia, Singapore, Indonesia and Philippine. World Purest --- Free from Microcystin.
Cutting Edge product launch, LeRoyale, a series of skin care products that use patented Transdermal Cosmetic Delivery System (TCDT); a water soluble hydrogel as an effective Bio-Matrix and user-friendly for skin rejuvenation.
LeRoy unveiled the LCCC (LeRoy 3R Community Caring Campaign) in support of Community, a charity dedicated to help at risk people for better future in life.
Celebrated 2nd Anniversary with thousands of attendance and record sales of RM2.0 million a day.
The 2005
LeRoy reached a sales milestone of RM60.0 million in 12 months and celebrate relocates of own new home office with over 30,000 sq ft office tower.
The company expanded internationally with breaking speed, 4 countries within a year includes Macau, Hong Kong, Indonesia and Brunei.
Achieved 60,000 distributors sales force over 1 nutritional product in 9 months, The 3R Flex Premixed Drinks.
Proudly introduced the world best Prune extract from a company with 100 over years old record in California, USA; 3R Viki and Mr. Prune for all in the family to enjoy the benefit of prune juice.
The most complete and balance nutritional drinks; Nutri-Drink and Green, by an international nutrition expertise, Dr Robert Lin, a James Lind Achievement Award recipient.
Launched of Save the Bone Save Our Live (STBSOL) campaign in support of community, which held over 100 events to create awareness on the important of Bone and Joint for better health.
In support of Singapore community, LeRoy together with Arthritis Foundation of Singapore organized a STBSOL campaign seminar.
The 2004
July 2004, officially launched LeRoy International Sdn Bhd. with prime product from Germany, 3R Flex.
Earn a pioneer status in the market for Bone and Joints health food products, which strengthen human structure and mobility.
Introduce LeRoy's Educational/Training Systems to cater for all walks of life to sustain growth and success.
Sales achieved RM1.2 million in 1st month.
Within 6 months of operation, office expanded from 2 units to 8 units office floor.
A record breaking sales of RM12.0 million achieved in first 6 months of operation.